Choosing a career direction
Questions to help you decide
Choosing a career direction is difficult for many people. However...... take it step by step and treat it like a career development planning exercise. Then, deciding what to do next becomes much, much easier.
An important first step is to think about the importance, and relevance of your career to the rest of your life.
Your job provides the income to support, clothe, feed and educate yourself and your family.
Your income enables you to pay your bills and finance your lifestyle.
Ultimately, and ideally, your career will provide the funds for you to enjoy a comfortable retirement.
Choosing a career direction that's new, or deciding whether to take a new job opportunity can be made a lot simpler if you've done some research on what your options are.
AND..... you've also done a serious evaluation of both the advantages and disadvantages of making the move.
Your next job opportunity - choice or chance?
Are you prepared to leave making a career change to chance, or luck?
Choosing a career direction that's new, or deciding to take a career change job opportunity on a whim can be a risky roll of the dice.
Some people are just born lucky - they'll make a snap decision about a job opportunity that arises and land on their feet in their dream job. For others, the story often doesn't have a happy ending.
As Clint Eastwood in that old movie classic, Dirty Harry, might say "Do you feel lucky, punk?"
Choosing a career direction
My tip - do your homework - that is - your career research and planning.
A career aptitude test might be something to try.
Typically the assessments that people complete as a part of the aptitude test makes choosing a career direction so much easier.
Another helpful activity for you to do is carry out a detailed career review as part of preparing your career development plan
What have you liked most and least about your so far?
What are the implications of your past decisions for your future career direction?
Why all the research and self analysis?
It's about ensuring that you're making a career change for the right reasons.... reasons that you know that will benefit you (and your family, if you have one)......AND in the best possible way over the short, medium and longer term.
What are your options for making a career change?
Here are some of the more common pathways that you might consider when choosing your career direction, or taking on a career change job.
Click on the links below to jump ahead to the options that most interest you!
Stay where you are, same job, same employer
Instead of choosing a career direction that's new, you might need to seriously consider this if, for example you're close to retirement, or will soon be eligible for long service benefits.
A decision to leave might therefore mean a significant financial disadvantage if you took another job. Are you really that unhappy?
On the other hand, do consider what the benefits will be if you do go through with making a career change.
Think about the bigger picture - examine all the angles before charging off to a career change job opportunity.
Enrich your current job, same employer
In larger organisations especially there might be a willingness by your employer to keep you on at any cost.
Think about the world wide skills shortage!
Do you have special skills and talents that your employer can't afford to lose?
If you're reasonably happy with your pay package, try and negotiate some changes to your job......changes that mean you do more of what you like to do, and less of the things that are making you unhappy. Perhaps try and negotiate a pay rise too!
Take a sideways move
Is a promotion out of reach for you because you don't yet have the necessary skills or experience?
Do you want to re-focus your career direction and yet stay with your current employer?
Consider a sideways job opportunity if it provides you with the skills and knowledge to progress to the next step in your chosen direction.... and, if you're reasonably happy with everything else about your employment.
Look for a promotion - same employer, new employer?
This option will depend on a number of things. Is there room to move up the ladder?
Does your employer encourage ambition? Is there a performance management system in place where you and your employer identify your next job opportunity?
Can you demonstrate that you have the skills and capability to accept higher responsibility?
Above all....are you happy to remain working for this organisation? Still enjoying your present field of employment and career direction?
How would a promotion satisfy other needs that you have?
More broadly, think about where a promotion might take you in relation to your medium to longer term career goals.
Will a move to a new employer either enhance or hinder your future employability? Sometimes, for example, people who spend a long time with the one employer might be considered to be either risk averse, or lacking in ambition.
Same career field, different role focus
This is a slightly different angle on choosing a career direction.
Making a career change like this could involve either a job opportunity where you are currently employed, or, more likely, with a new employer.
For people in mid-career this is sometimes a good option. If you've developed a good reputation in your field, but you have lost interest in where you career has been recently been focused, perhaps explore this idea a little further.
For example, if you're accountant might want to try a different specialisation - moving from management accounting into say auditing.
Such a move might also enhance your future employability because your experience is now more diverse.
My story
In my own career as a training and development specialist, I decided to take a career change job opportunity.
I moved from a role which involved delivering and facilitating training programs and began to specialise in instructional design, and the development of training courses and learner resources.
This involved a change of employer.
Change career direction completely
New job with a new employer
Can this really be done? The answer is yes!
When I was providing job search mentoring to people whose positions had been made redundant, about one in three people found themselves choosing a career that took them in a completely different direction.
How? If you're thinking of making a career change of this type, there are several steps you would need to complete. For example:
Identify the transferable skills that you've acquired up to now in your career.
Research occupations related to your transferable skills
Do more career planning, including possibly a career aptitude test, to identify and then target your next field of employment
A career personality test which will identify what type of employment you are most suited to do might be an avenue to explore
Develop a targeted list of employers in this field
Plan and implement your job search strategy, including preparation of a targeted resume.
Change career - take a step backwards
Why would you do this?
This is a common course of action for people intent on choosing a career that's new.
They take a step back as a means of acquiring or further developing the skills and knowledge associated with their new career path.
In some cases this is the only option for people changing careers.
Why? Because employers will usually find them to be too inexperienced to work in their new career at the same level of responsibility as their past job.
Taking a step back
To take a step backwards with your current employer you'd probably need solid reasons, and understanding boss.
Reasons like...... seeking better work-life balance, you're in poor health, or unable to continue in your present role because of some sort of disability that you've acquired.
Otherwise, this would probably raise a whole lot of questions about 'why' that you probably don't want to have to deal with - unless you have a really sympathetic employer and work colleagues.
Sometimes, if you're really intent on choosing a career that takes you in another direction it might often be easier to change employers......
As always though, thoroughly assess the risks before you decide to move.
Become self employed
Choosing a career that's away from working for a boss to being self employed needs to be very carefully considered.
Why? While there might be big rewards that are catching your attention, there are potentially big risks too.
Key question: Are you suited to being self employed?
Here are some of the characteristics that seem to be shared by people who have decided to be their own boss.
You're a self starter, like to plan and are well organised
You enjoy working on a range of different things at any one time
You are easily able to separate your work from other parts of your life
You either have several years experience (at least 5 years) in your field, and/or you have leading edge skills and knowledge in your field
The skills and knowledge you have are in high demand
The type of work that you do lends itself to self employment
You have exceptional interpersonal skills and would be comfortable self promoting and marketing your business
You have good financial resources, sufficient to cover living expenses for yourself and family, and to pay the bills for your business for at least the first few years
You are able to capably manage the financial affairs of your own business
You have relevant income protection insurance and professional indemnity insurance
Warning about self employment
Be aware: Up 85% of businesses fail in the first 5 years.
The main cause of this is insufficient finance. The second major cause is bad management - this includes poor marketing and poor financial administration.
Realise that when you are running your own business, you'll probably need to, and will do everything.....at least until your business is big enough and profitable enough to hire some people to do the things you no longer want to do.
What about an internet based business?
One option you might like to explore in relation to self employment is developing an internet based business.
The idea here is to develop over a period of time a sustainable alternative stream of income. It might take two or three years to develop an income to replace your job. But....such a course of action might set you free!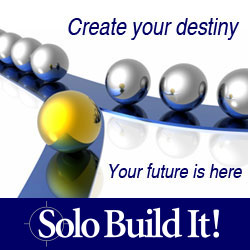 SBI, or Site Build It is the industry leader in coaching people in how to develop a business on-line which can in turn lead to financial independence.
SBI's primary aim is to assist everyday people with the complete 'how to' on building a successful web based business.
The proof of this? Simple.....the unbelievably high number of people who have used the SBI method to develop their business, whose websites show up in the top 10 Google search results.
You don't have to be an advanced computer user either!
You can see from the range of options available about your future that choosing a career direction to take you forward is not something that you would ideally make without serious consideration.
Next steps
Still confused about choosing a career direction? Don't be....take it a step at a time.
Importantly, go to some of the suggested links on this page. Their purpose is to help you in making a career change a step by step, simple process.
Here are some suggestions for getting started: